Graphic Design
Graphic design is the dynamic fusion of art and skill, dedicated to crafting visual content that communicates messages, ideas, and concepts. Operating across diverse mediums such as print, digital, and multimedia, this field is a vibrant tapestry of creativity and innovation.
At our company, we are proud to house some of the industry's finest graphic designers, ready to transform your boldest ideas into visually stunning realities. Always at the forefront of the latest trends and technologies, we harness cutting-edge tools to bring your vision to life through impeccable graphic design. Elevate your visual identity with us and experience the artistry of communication in every pixel.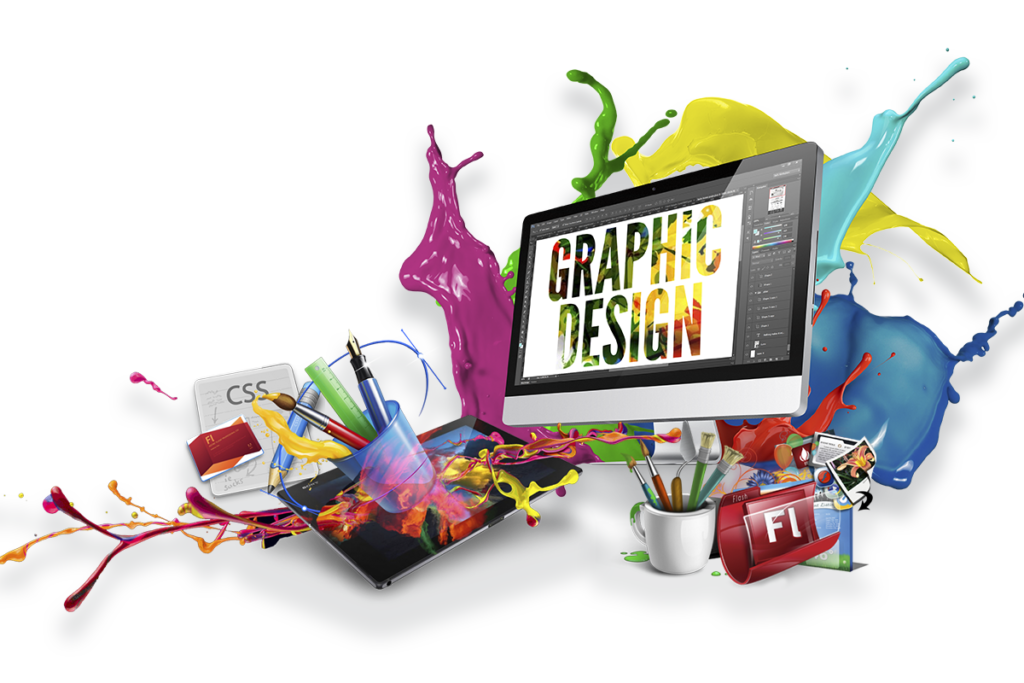 Why Do You Need Graphic Design?
Ever marveled at the sheer awesomeness, vibrancy, and coolness around you? Welcome to the enchanting world of "graphic design."
Elevating Aesthetics:
Picture magicians wielding words, images, and colors to conjure breathtaking posters, websites, and logos. Graphic designers infuse life into the mundane, turning the ordinary into extraordinary.
Storytelling Brilliance:
Imagine a storybook devoid of visuals – a dreary prospect, right? Graphic design breathes life into tales, shaping book covers and comic illustrations that transport narratives into vivid realms.
Arresting Your Attention:
Have you ever encountered signs so bright or ads so cool they compelled you to pause? Behold the spellbinding power of graphic design – capturing your gaze and piquing your curiosity.
Seamless Information Flow:
Delight in devouring fun facts or embracing new knowledge? Graphic design is the maestro behind vibrant charts, diagrams, and infographics, transforming complex information into easily digestible visuals.
Branding Mastery:
Think of your cherished toy or go-to snack. Those distinctive logos and colors? Credit graphic design for creating iconic brand identities, ensuring they're unmistakable and memorable.
Emotional Expression:
When words fall short, pictures and colors step in. Graphic design becomes the language of emotions – conveying happiness, sadness, excitement, and the entire spectrum of feelings.
Organizational Harmony:
From books to websites and magazines, graphic design orchestrates visual symphonies, ensuring everything appears tidy and effortlessly navigable.
Graphic design isn't just a skill; it's the superhero crafting the allure of our surroundings, weaving narratives, and enhancing our understanding of the world. Its omnipresence extends from beloved video game characters to the cereal box gracing your breakfast table. Embrace the enchantment of graphic design – where magic meets visual brilliance.
Save Hours of Time and Frustration
Put an end to homemade, trial and error, and unsystematic Graphic Design approaches.
Stop Wasting Money
Embrace Graphic Design approach that caters to the unique needs of your business.
Start GROWING Your Business
By picture Graphic Design that revolves around your business and objectives, you will differentiate yourself from the competition and experience a surge in lead generation, conversions, and sales.
You Can Rise Above Your Competition
1
Fill Out Our Form
We'll schedule a FREE fact finding consultation to learn more about your business needs and goals.
2
Get Your Strategy
We will develop your individual Graphic Design to help you achieve your goals.
3
Get Results
Your business will rise above your competition, get noticed and get RESULTS
Invaluable help from

Graphic Design
Graphic design is more than just an art form; it's a business asset. It bridges the gap between business intent and audience reception, giving form to messages in a visually captivating way. Its impact on business success can't be understated. Here's a breakdown of how graphic design influences various facets of business success.
1. Engaging Visual Content: In a world dominated by digital screens, audiences are consistently exposed to a deluge of visual stimuli. Graphic design helps businesses stand out, capturing and retaining audience attention. From websites and social media posts to print materials like brochures and business cards, design shapes the audience's first impression.
2. Building Brand Identity: Every brand seeks a unique space in consumers' minds. Graphic design provides the tools to sculpt that space. Through consistent logos, color palettes, and typography, a brand's visual identity gets etched into the consumer psyche. Over time, this fosters recognition, loyalty, and trust among customers.
3. Enhancing Communication: Sometimes, words alone can't convey the depth of a message. Enter graphic design. Through tools like infographics, charts, and visual aids, complex data gets simplified. Information becomes more accessible and digestible, especially in sectors where intricate data is prevalent, such as finance, healthcare, and tech.
4. Cementing Brand Awareness: A memorable design leaves an imprint. Whether it's a catchy logo or a distinctive color scheme, these design elements become synonymous with the brand itself. The result? Even without seeing the brand name, consumers can instantly recognize a brand based on visual cues alone.
5. Competitive Advantage: In today's saturated market, businesses vie for customer attention. Superior graphic design can be the differentiating factor. When businesses invest in quality design, they not only convey professionalism but also indicate their commitment to excellence. This investment differentiates them from competitors, offering a tangible advantage in customer acquisition and retention.
Choosing CyberSpyder Inc. for graphic design can provide several benefits, including:
Professional and High-Quality Designs: CyberSpyder Inc. has a team of professional graphic designers who can create high-quality designs that align with your brand voice and values. This can help improve your brand's reputation and recognition.
Customized Designs: CyberSpyder Inc. can create customized designs that are tailored to your business's needs and goals. This can help you stand out from your competitors and attract more customers.
Consistent Branding: CyberSpyder Inc. can ensure that all your designs, such as logos, marketing materials, and social media graphics, are consistent with your brand identity. This can help reinforce brand recognition and loyalty.
Fast Turnaround Time: CyberSpyder Inc. can provide quick turnaround times for design projects, allowing you to meet tight deadlines and launch your campaigns on time.
Cost-Effective: Outsourcing graphic design to CyberSpyder Inc. can be cost-effective compared to hiring an in-house designer or team.
Integration with Other Services: CyberSpyder Inc. can integrate your designs with other services, such as website design, email marketing, and social media management, creating a consistent and cohesive brand experience for your customers.
Overall, choosing CyberSpyder Inc. for graphic design can provide numerous benefits for businesses looking to improve their branding efforts, stand out from their competitors, and attract more customers.
Did some research locally after fighting and struggling through a few larger companies to handle my website, email, and digital marketing. Met with the Team at CyberSpyder and was thoroughly impressed with the professionalism. They helped me get my website flawlessly switched over, gave it a great overhaul to accommodate my SEO and visual appeal. Launch went extremely smooth. Service and Expectations have been superior since our first meeting.
Charlie Little
2022-10-21
The work they did transformed my website from failing to fantastic! Highly recommend! Thank you 😊
Mosemarie Boyd
2022-06-16
Stephanie at CyberSpider is amazing! She accomplished what I have attempted to do unsuccessfully for about 5 years. She got political ads authorized and running on Facebook. She kept at it despite many hurdles, and she double and triple checked over and over until every step was completed. There were multiple gaps in the process and I had tried everything without success, including writing a paper letter to FB and going to their HQ in Palo Alto—none of which produced results. I highly recommend Steph and her CyberSpider team!
Amazing people to work with! We are loving our new website.
Stephanie and Rob are efficient and easy to work with for the non tech savvy.
Amanda Pereira
2017-07-19
Very professional, prompt with edits and got us exactly what we wanted. Highly Recommend them for your website needs.
Fitzhugh POS Solutions
2015-07-31
I love what CyberSpyder is doing for Fitzhugh POS Solutions and Fitzhugh Communications. All of our social media, from e-newsletters and blogging to Facebook, Twitter and our website, they handle it all. We meet once a month, discuss potential strategies and CyberSpyder takes it from there. Simple, affordable and effective. CyberSpyder helps Fitzhugh POS Solutions stay in contact with our local accounts throughout Arkansas, our national accounts in Illinois, Kansas and Wyoming, as well as new potential clients with their social media suite of services. Jason Fitzhugh Fitzhugh POS Solutions
CyberSpyder is very reliable and delivers more than you ask for. They go the extra mile to ensure that your website is running 100% Work is clean and design is awesome! They make sure you are satisfied with work done.
Next time you see something cool and colorful, remember that the graphic designer at CyberSpyder Marketing Agency went to great lengths to make it that way.
Graphic Design in Fort Smith, AR

|

Graphic Design Service #1