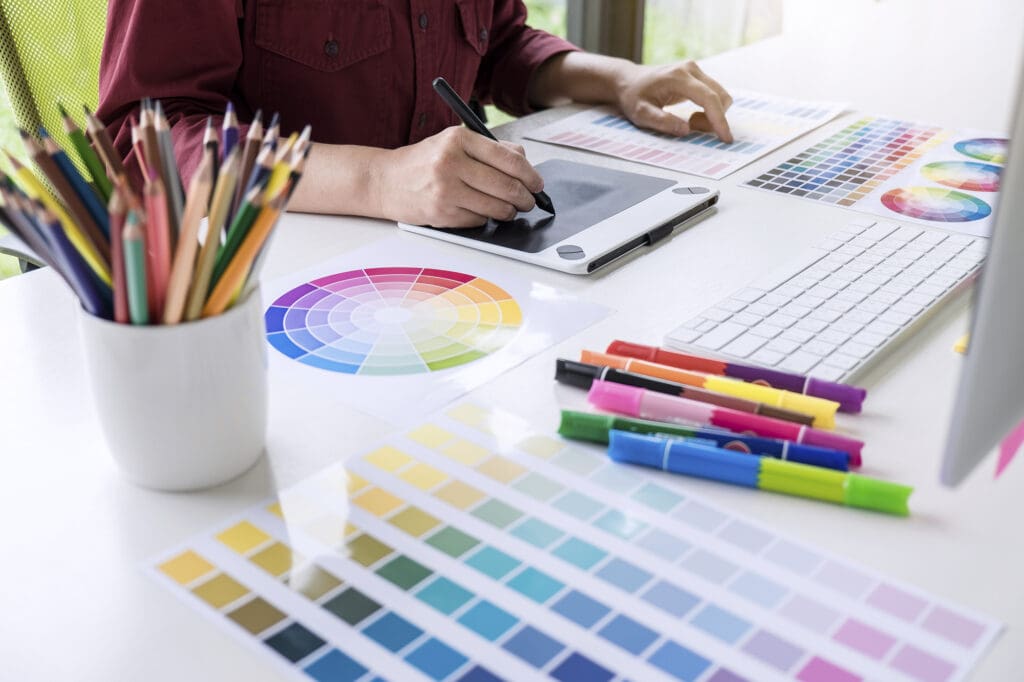 In the realm of establishing a strong business identity, two pivotal components take center stage: a meticulously crafted logo and a strategic branding approach.
A seamlessly designed logo and a thoughtful branding strategy don't just differentiate a company from its competitors; they become the visual heartbeat that resonates with audiences, fostering brand recognition, loyalty, and a genuine connection. Beyond aesthetics, they serve as powerful communicators, conveying the essence of a company's values and personality to its customers. These elements are not just symbols; they are the visual language that speaks volumes about a business's identity and leaves an indelible mark on the minds of its audience.
The Importance of

Logo Design

and

Branding
Your brand's first impression is often encapsulated in its logo and branding - the visual handshake that introduces you to your audience. It's not just about aesthetics; it's about crafting an experience that resonates, communicates values, and forges lasting connections.
Crafting Your Unique Saga: The Power of Your Brand Story
Every business harbors a distinctive story - a narrative that encapsulates its essence and purpose. This narrative is the lifeblood of your brand, dictating who you are, your values, and how you enhance your customers' lives. From this narrative, the alchemy of logo design and branding takes shape. We're here to be your storytellers, refining and expressing your tale with impact.
Essentials of a Resonant Branding Symphony
For a brand to truly strike a chord, a harmonious blend of elements is essential:
Brand Positioning: Illuminate what sets you apart and why you're the premier choice in your field.

Target Audience: Understanding your audience allows for a tailored brand voice and visuals, fostering deeper engagement.

Visual Identity: Beyond a logo, it's about colors, typography, and design aesthetics - a visual signature that speaks volumes.

Brand Voice: Consistency in tone across all communications forms a unified brand image, enriching customer relationships.
In our collaborative journey:
More than Design: A Manifestation of Your Brand's Essence
Our logos transcend mere images; they embody your brand's heart and soul. Each design is a crafted testament to your ethos and aspirations.
Deep Dive Approach: Immersed in Your Brand Narrative
We don't skim the surface; we plunge into your brand narrative, understanding its core. This immersion births logos that resonate with your audience and tell your story seamlessly.
Unwavering Excellence: Beyond Design, a Pursuit of Perfection
Our passion goes beyond designing; it's about achieving unmatched perfection. Each logo undergoes meticulous evaluation, standing tall on the scales of innovation and coolness.
Versatility in Design: From Subtle Sophistication to Bold Statements
Whether you seek subtlety or boldness, we've got it covered. Our team captures your brand's essence, be it in delicate subtleties or impactful statements.
At day's end, our mission is to give your brand a face that's not just recognized, but etched in memory. A face that commands attention and lingers in the minds of your audience. Dive into this creative odyssey with us, and let's co-create a logo that's not just cool but truly iconic.
When you partner with us:
You're Getting More than Just a Design: Our logos are not mere images. They are reflections of your brand's heart and soul. Crafted meticulously, each design is a testament to what your brand stands for, echoing its ethos and aspirations.

Deep Dive Approach: We don't scratch the surface. We immerse ourselves in your brand narrative, understanding its essence. This helps us shape logos that strike a chord with your target audience and narrate your story seamlessly.

Unwavering Commitment to Excellence: Our passion isn't just about designing; it's about achieving unparalleled perfection. Every single logo we sculpt is subjected to a detailed evaluation, ensuring that it stands tall on the scales of innovation and coolness.

Versatility in Design: Whether you fancy a logo that's subtly sophisticated or one that shouts out loud, we've got you covered. Our team is adept at capturing the essence of your brand, whether it lies in delicate subtleties or bold statements.
You Can Rise Above Your Competition
1
Fill Out Our Form
We'll schedule a FREE fact finding consultation to learn more about your business needs and goals.
2
Get Your Strategy
We will develop your customized brand strategy that helps you reach those goals.
3
Get Results
Your business will rise above your competition, get noticed and get RESULTS
Why CyberSpyder Marketing Agency is Your Ultimate Destination for Logo Design and Branding Excellence
Thriving in today's competitive landscape demands more than just a business; it demands a brand that stands out. Choosing CyberSpyder Marketing Agency means choosing a partner dedicated to catapulting your business to new heights. Here's why collaborating with us is a strategic move:
Elevated Professionalism: Crafting Experiences, Not Just Designs
Our team of seasoned logo designers is not in the business of creating mere designs; they curate visual experiences. Expect professionalism that goes beyond aesthetics, ensuring your designs resonate with your brand ethos, elevating credibility and visibility.
Tailored Uniqueness: No One-Size-Fits-All Approach
At CyberSpyder Marketing Agency, we shun the generic. Embrace designs tailored to encapsulate the unique character of your business, effectively differentiating you from competitors and magnetically drawing in your target audience.
Strategic Branding Expertise: Beyond Beauty Lies Substance
Our services transcend aesthetics; we plunge into strategic branding. We unravel everything that makes your business exceptional – its mission, values, and essence. We're here to ensure your brand doesn't just look good but tells a compelling story.
Consistent Brilliance: From Logo to Collaterals, a Unified Language
From your logo to social media graphics and marketing collaterals, we ensure a seamless branding language. This consistency isn't just visually pleasing; it cements brand recognition and cultivates unwavering customer loyalty.
Prompt Precision: Time is Business; We Respect Both
In the rapid heartbeat of the business world, time is of the essence. At CyberSpyder Marketing Agency, we not only respect deadlines but thrive on them. Experience a swift project turnaround, ensuring you hit the market precisely when you intend to.
Smart Investments: Superior Quality, Cost-Effective Solutions
Why burden yourself with an in-house team when you can access superior, specialized services at a fraction of the cost? CyberSpyder Marketing Agency promises not just top-notch designs but also a commitment to cost-effectiveness.
In essence, choosing CyberSpyder Marketing Agency for your logo design and branding needs is an investment in excellence. From our stronghold in Fort Smith, AR, we pledge to thrust your business into the spotlight with branding that resonates. Your pursuit of impeccable design and branding solutions concludes here. Join forces with us, and let's script your brand's unforgettable narrative together.
Did some research locally after fighting and struggling through a few larger companies to handle my website, email, and digital marketing. Met with the Team at CyberSpyder and was thoroughly impressed with the professionalism. They helped me get my website flawlessly switched over, gave it a great overhaul to accommodate my SEO and visual appeal. Launch went extremely smooth. Service and Expectations have been superior since our first meeting.
Charlie Little
2022-10-21
The work they did transformed my website from failing to fantastic! Highly recommend! Thank you 😊
Mosemarie Boyd
2022-06-16
Stephanie at CyberSpider is amazing! She accomplished what I have attempted to do unsuccessfully for about 5 years. She got political ads authorized and running on Facebook. She kept at it despite many hurdles, and she double and triple checked over and over until every step was completed. There were multiple gaps in the process and I had tried everything without success, including writing a paper letter to FB and going to their HQ in Palo Alto—none of which produced results. I highly recommend Steph and her CyberSpider team!
Amazing people to work with! We are loving our new website.
Stephanie and Rob are efficient and easy to work with for the non tech savvy.
Amanda Pereira
2017-07-19
Very professional, prompt with edits and got us exactly what we wanted. Highly Recommend them for your website needs.
Fitzhugh POS Solutions
2015-07-31
I love what CyberSpyder is doing for Fitzhugh POS Solutions and Fitzhugh Communications. All of our social media, from e-newsletters and blogging to Facebook, Twitter and our website, they handle it all. We meet once a month, discuss potential strategies and CyberSpyder takes it from there. Simple, affordable and effective. CyberSpyder helps Fitzhugh POS Solutions stay in contact with our local accounts throughout Arkansas, our national accounts in Illinois, Kansas and Wyoming, as well as new potential clients with their social media suite of services. Jason Fitzhugh Fitzhugh POS Solutions
CyberSpyder is very reliable and delivers more than you ask for. They go the extra mile to ensure that your website is running 100% Work is clean and design is awesome! They make sure you are satisfied with work done.
Logo Design in Fort Smith, AR

|

Best Branding Service #1