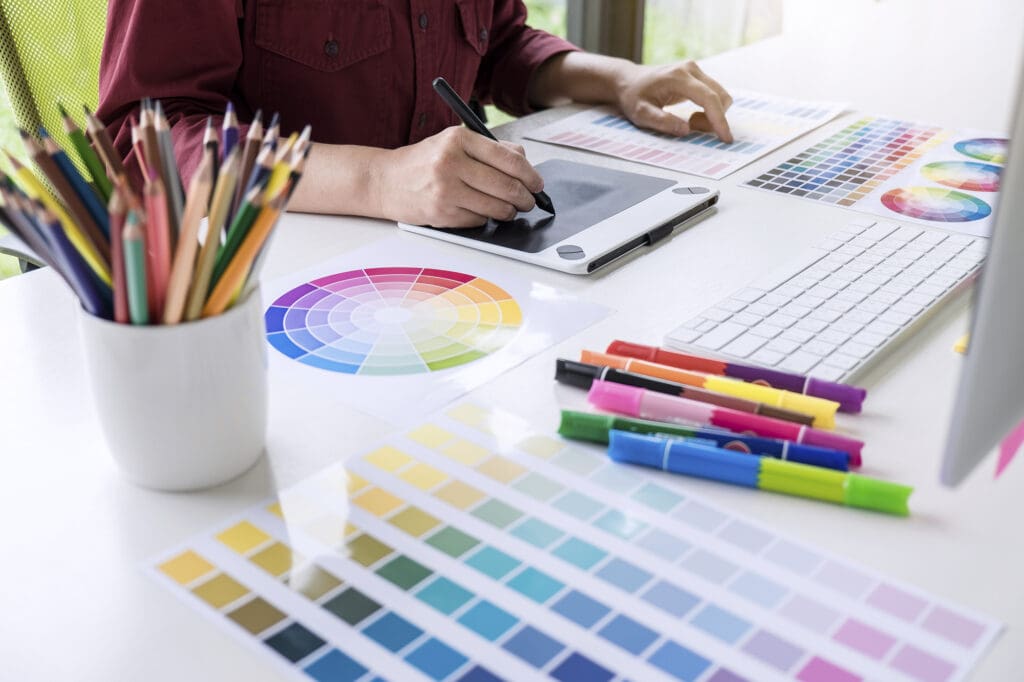 These are two critical elements of a business's visual identity. A well-designed logo and branding strategy can help a company stand out from its competitors, create brand recognition and loyalty, and communicate its values and personality to its customers.
The Importance of

Logo Design

and

Branding
Every interaction a customer has with a business often starts with its logo and branding. These elements are pivotal in forming the initial impressions and perceptions of the brand. Through effective logo design, a company can express its values, personality, and mission. Furthermore, robust branding not only distinguishes a business from its rivals but also fosters trust and credibility. When customers consistently recognize a brand, it builds a sense of loyalty, often translating into better sales and customer retention.
Crafting Your Brand Story
Every business has a unique story to tell - a narrative that encapsulates its essence and mission. This story is the heartbeat of your brand, detailing who you are, what you represent, how you operate, and most importantly, how you add value to your customers' lives. It's from this narrative that your logo and branding strategies evolve. We're here to guide you in refining and expressing this story effectively.
Key Components of a Successful Branding Strategy
For a brand to truly resonate, several elements must come together:
Brand Positioning: This captures how a business wishes to be viewed by its audience. It's about spotlighting what sets the company apart and why it's a top pick in its field.

Target Audience: Knowing your audience is paramount. By understanding their needs and preferences, you can tailor your brand's voice and visuals, resulting in deeper engagement and loyalty.

Visual Identity: Beyond just a logo, this encompasses colors, typography, and overall design aesthetics. A coherent visual identity speaks volumes about a company's ethos and aids in building trust.

Brand Voice: This is the tone used in all communications, be it in advertising, social media, or customer dialogues. A consistent voice paints a unified brand image, enhancing customer relationships.
Remember, the language of branding is universal. Let's embark on this journey together.
When you partner with us:
You're Getting More than Just a Design: Our logos are not mere images. They are reflections of your brand's heart and soul. Crafted meticulously, each design is a testament to what your brand stands for, echoing its ethos and aspirations.

Deep Dive Approach: We don't scratch the surface. We immerse ourselves in your brand narrative, understanding its essence. This helps us shape logos that strike a chord with your target audience and narrate your story seamlessly.

Unwavering Commitment to Excellence: Our passion isn't just about designing; it's about achieving unparalleled perfection. Every single logo we sculpt is subjected to a detailed evaluation, ensuring that it stands tall on the scales of innovation and coolness.

Versatility in Design: Whether you fancy a logo that's subtly sophisticated or one that shouts out loud, we've got you covered. Our team is adept at capturing the essence of your brand, whether it lies in delicate subtleties or bold statements.
At the end of the day, our mission is to give your brand a face that's not just recognized, but remembered. A face that commands attention and stays etched in the minds of your audience. Dive in with us, and let's co-create a logo that's not just cool but iconic.
You Can Rise Above Your Competition
1
Fill Out Our Form
We'll schedule a FREE fact finding consultation to learn more about your business needs and goals.
2
Get Your Strategy
We will develop your customized brand strategy that helps you reach those goals.
3
Get Results
Your business will rise above your competition, get noticed and get RESULTS
Why

CyberSpyder Inc.

Should Be Your Go-To for Logo

Design

and

Branding
In today's competitive marketplace, the right branding can set your business miles apart from the rest. With CyberSpyder Inc. at your side, here's what you're signing up for:
Top-tier Professionalism: Our team, made up of seasoned logo designers, doesn't just create designs; they craft visual experiences. You can count on us for designs that not only look good but also resonate with your brand ethos, thereby enhancing your brand's credibility and visibility.

Tailor-made for You: With CyberSpyder Inc., one size doesn't fit all. We believe in unique designs that represent the distinctive character of your business, setting you apart from competitors and drawing in your target audience.

Strategic Branding: Our services aren't just about beautiful designs. We delve deep into brand strategy, encompassing everything that makes your business stand out – its mission, values, and essence. We're here to ensure that your brand tells a compelling story.

Consistency is Key: From your logo to your social media graphics and marketing collaterals, we ensure a harmonious branding language. This seamless consistency fortifies brand recognition and fosters customer loyalty.

Prompt Deliveries: In the fast-paced world of business, time is of the essence. At CyberSpyder Inc., we respect deadlines and ensure a swift project turnaround, making sure you're ready to hit the market when you need to.

Value for Money: Why invest heavily in an in-house team when you can get superior, specialized services at a fraction of the cost? With us, you're not only getting top-notch designs but also an assurance of cost-effectiveness.
In a nutshell, aligning with CyberSpyder Inc. for your logo design and branding needs is an investment in excellence. From our base in Fort Smith, AR, we're committed to propelling businesses into the limelight with branding that speaks volumes. Your quest for impeccable design and branding solutions ends here. Join hands with us, and let's craft your brand's unforgettable story together.
Did some research locally after fighting and struggling through a few larger companies to handle my website, email, and digital marketing. Met with the Team at CyberSpyder and was thoroughly impressed with the professionalism. They helped me get my website flawlessly switched over, gave it a great overhaul to accommodate my SEO and visual appeal. Launch went extremely smooth. Service and Expectations have been superior since our first meeting.
Charlie Little
2022-10-21
The work they did transformed my website from failing to fantastic! Highly recommend! Thank you 😊
Mosemarie Boyd
2022-06-16
Stephanie at CyberSpider is amazing! She accomplished what I have attempted to do unsuccessfully for about 5 years. She got political ads authorized and running on Facebook. She kept at it despite many hurdles, and she double and triple checked over and over until every step was completed. There were multiple gaps in the process and I had tried everything without success, including writing a paper letter to FB and going to their HQ in Palo Alto—none of which produced results. I highly recommend Steph and her CyberSpider team!
Amazing people to work with! We are loving our new website.
Stephanie and Rob are efficient and easy to work with for the non tech savvy.
Amanda Pereira
2017-07-19
Very professional, prompt with edits and got us exactly what we wanted. Highly Recommend them for your website needs.
Fitzhugh POS Solutions
2015-07-31
I love what CyberSpyder is doing for Fitzhugh POS Solutions and Fitzhugh Communications. All of our social media, from e-newsletters and blogging to Facebook, Twitter and our website, they handle it all. We meet once a month, discuss potential strategies and CyberSpyder takes it from there. Simple, affordable and effective. CyberSpyder helps Fitzhugh POS Solutions stay in contact with our local accounts throughout Arkansas, our national accounts in Illinois, Kansas and Wyoming, as well as new potential clients with their social media suite of services. Jason Fitzhugh Fitzhugh POS Solutions
CyberSpyder is very reliable and delivers more than you ask for. They go the extra mile to ensure that your website is running 100% Work is clean and design is awesome! They make sure you are satisfied with work done.
Logo Design in Fort Smith, AR

|

Best Branding Service #1